Use the NVivo Help
---
This topic explains how to access the Help and explains different ways you can find help topics.
What do you want to do?
---
---
Access the Help
In this release of NVivo for Mac, you need to be connected to the Internet to access the Help. 
To access the Help:
Choose Help > NVivo Help.
Keyboard Shortcut  To access the Help menu, press ⌘+ QUESTION MARK (?)

Top of Page
Find relevant Help topics
When you first open the Help (unless you open it from a dialog), the Help welcome page is displayed. You can use the links on this page to find relevant topics, or you can find topics by  using the table of contents or the search function.
If you open the Help from a dialog, the relevant topic is automatically displayed.
The following diagram shows some of the ways you can navigate the NVivo Help: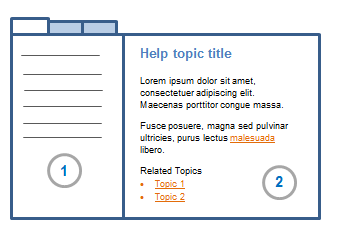 1  The pane on the left has three tabs. Click on the different tabs to access:
Contents—this is an expandable table of contents. Click on a book to expand it and see the topics inside. Click on a topic to open it.

Search—enter a word or phrase to find relevant topics. Click on a topic in the search results to open it.

Glossary—provides definitions of NVivo terms.
2  The pane on the right displays the Help topic. Related Help topics are listed at the end of each topic—click on the hyperlink to open the topic. You can also follow links within the topic itself to move from one topic to another.
NOTE:  If you have any feedback about the Help, please post your comments on the QSR Forum

Top of Page
Access machine-translated Help
A machine-translated version of the Help is available in the following languages: Chinese (Simplified Chinese), French, German, Japanese, Portuguese and Spanish. This translation is provided by Google Translate.  
Translation is a complex task because the meaning of a word varies depending on the context in which it appears. Machine translation does not yet equal the quality of human translation, so you may notice translations that could be improved. Google Translate allows you to contribute a better translation—refer to the Google Translate Help for more information.

Top of Page